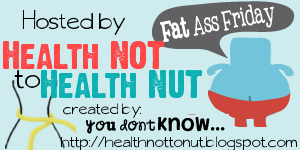 Um... yeah...
I haven't exercised in 2 weeks.
But I also went out to eat a lot and made exceptions.
And
I stress ate a bag of M&Ms
. Twice.
I'm not going to let it get me too far down though.
I feel a little bad about it-which is good because it means I'll work harder next week.
But I'm dating someone, and he makes me too smiley inside to feel bad for long.
That's right, I said he makes me all smiley inside.
Despite the fear that it wont work out, the self-doubt, the insecurity. I am smiley.
Update on Last Week's Goals
Go grocery shopping - DONE!
Start juicing again - Sort of DONE. Our juicer died so we did smoothies instead!
Drink more water - FAIL. Seriously I'm going to get this next week.
Exercise - COMPLETE FAIL.
Buy a new juicer and use it
Continue making healthy smoothies
Finally find a big water bottle so I can get that back on track
Exercise and/or hula-hoop
P.s. I didn't weigh myself because I was running to late today.