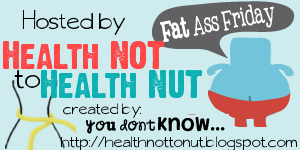 Hello you gorgeous people.
I totally didn't weigh-in.
Or exercise.
Or eat all that healthy.
Whooops.
Wow, the last three FAF posts have been like that...
Oh well I guess... I got a pretty hair cut, dyed it, AND when I went jean shopping after I was able to buy a size smaller-so I'm choosing to celebrate that. Plus I'm hot-look at this picture:
Updates on Last Week's Goals
Buy a new juicer and use it -

In Progress

-it finally came but I haven't used it yet.
Continue making healthy smoothies-

FAIL

. I didn't make any this week.
Finally find a big water bottle-

DONE

-Today... Using a 50oz Smart Water bottle.
Exercise and/or hula-hoop-

FAIL

.