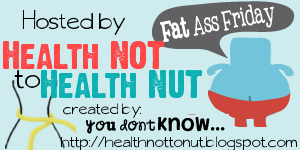 Well if I thought last week was failure, it doesn't compare to this week.
I didn't exercise even once. I didn't drink enough water. I ate too much.
But I'm not going to beat myself up. Just pick myself up and move forward.
And it's shark week, so I am NOT weighing myself this week. Deal with it.
This week's goals:
I failed all of last week's goals, so we wont even go into details.
Go grocery shopping
Start juicing again
Drink more water
Exercise
There's just no reason to feel bad for too long about failing.
There's too much else to worry about, and if I dwell I'll get stuck.
So I'm keeping my head up, and next week will be different.
Link-up and show some support! :)