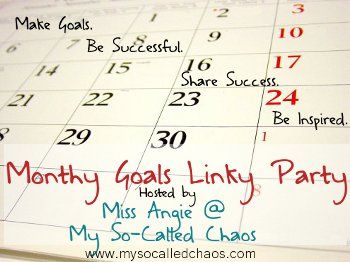 Drink More Water

Start taking vitamins again

Start taking my Birth Control (maybe it'll fix some of my period issues!)

Lose 5-10lbs

Hula Hoop at least 3 times a week

Be more active
Well, I can safely say I failed every single goal last month.
Every. Damn. One.
I'm such a fat-ass slacker. Blah.
I guess all I can do is pick myself up and try for better this month.
Drink More Water
Start taking vitamins again
Lose 5-10lbs
Hula Hoop at least 3 times a week
Be more active
Go swimming
I
will
do these this time.
I'm tired of failing!
What are your goals for June?
Grab the button for your post and link up before 6/10/12! :)
Note: Everyone who links up this year, will be entered in a drawing at the start of next year for a HUGE prize pack. The more months you link up with the goal party, the more entries you get! :)