I'm on Vacation, but never fear-I've lined up some awesome guest posters! For example, miss Beth is here today to help remind us all that getting fit isn't all about the numbers on the scale. I think it's very important (I've been a victim of the poor thinking a lot!) and I think she voices it well.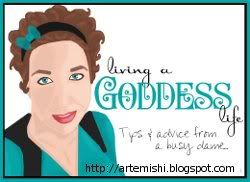 Leave her some love, these are great tips!
***
Beth here, from
Living a Goddess Life
, with a tip for all you amazing folks who are currently working toward getting healthier and more svelte.
It's really easy to determine progress by pounds lost, and then get frustrated when the scale doesn't reward us for our hard work. Trust me, I know (and also, as a curious, nosy, and well-read woman who has been working on losing weight and getting fit since age 15, I feel qualified to lend some advice).
When you're talking about changing the mass of your body, this isn't on the same par as, say, getting your hair cut.
This is something your body will fight against for a while
, because it's programmed to keep you safe from famine.
Getting fit requires a long view!
Don't think of it in terms of "I lose, or I gain".
Don't weigh yourself every day.
Don't measure your progress by the progress of others- your path to wellness is as unique as your thumbprint.
And don't assume that weight gain means fat gain.
DO measure inches (being consistent in where you measure) in addition to weight- sometimes you can lose inches in your waist and no pounds at all....and aren't inches a measure of progress, too?
DO track your progress in weeks and months, and set your goals for 6-12 months away.
DO drink a lot of water and be active every day. Remember, some weight gain is food waste, some is swelling, and some is muscle.
DO exercise a cardio routine of your choice, 3-5 days per week AND try some muscle-building (even if it's just lifting cans of refried beans for 50 reps a day). Gaining muscle will boost your metabolism, assisting in burning fat.
DO combine eating less with moving more. You must do BOTH parts of this equation to be healthy and ensure stable, long-term fat loss.
DO reward yourself for progress. It's a lot easier to hate on yourself for gaining than it is to be your own cheering squad. Make your reward something non-food based, like a new outfit, a new book, 30 minutes of 'me' time, a massage, etc.
DO forgive yourself for not reaching goals, and move on. If you don't feel like you've made progress after 30 days or more, vary your routine or amp it up. Our bodies get in ruts of efficiency, and you have to shake things up with a new workout routine, or cutting out certain food items.
DO get others involved- you are more likely to lose weight if you have a support system. Also, we tend to adapt our eating habits to those we live with, so get the whole family excited and involved in it!
DO let yourself have those treats you've been craving (in moderation), but balance it by working out twice as much the next day, or restricting calories by that much, etc. Again, take the long view.